Was Pope Benedict XVI really a "Nazi"? Did Pope Francis almost marry? We break down Netflix's new movie.
In The Two Popes, director Fernando Meirelles and screenwriter Anthony McCarten – who wrote the screenplays for The Theory of Everything, Darkest Hour, and Bohemian Rhapsody-dramatize the recent history of the Roman Catholic Church.
Despite its title, the movie is in many ways a biopic about one pope, Jorge Mario Bergoglio, later known as Pope Francis, though Benedict XVI also appears as an important supporting character.
How accurate is this depiction of the man who would eventually become the first pope from Latin America? What role did Francis really play during Argentina's Dirty War? And did he and Benedict really spar about church doctrine over pizza and Fanta? Below, we break down what's canonical and what's apocryphal in Netflix's new movie.
Fr. Paul Although lot of it is fiction, the dialogue touches important questions and there's a buddy part of them enjoying the World Cup! I give it 4 blessings.
Fr. Al A little too much fiction for me. It takes popular opinions of these individuals rather than trying to show who they really are. I give it 1 blessing.
Fr. Marty I like how the criticalness that welcomes a prospective Jesuit is displayed by Benedict, and their jokes about confession.This had to be made by an "insider". I give it 3 blessings.
Papal conclave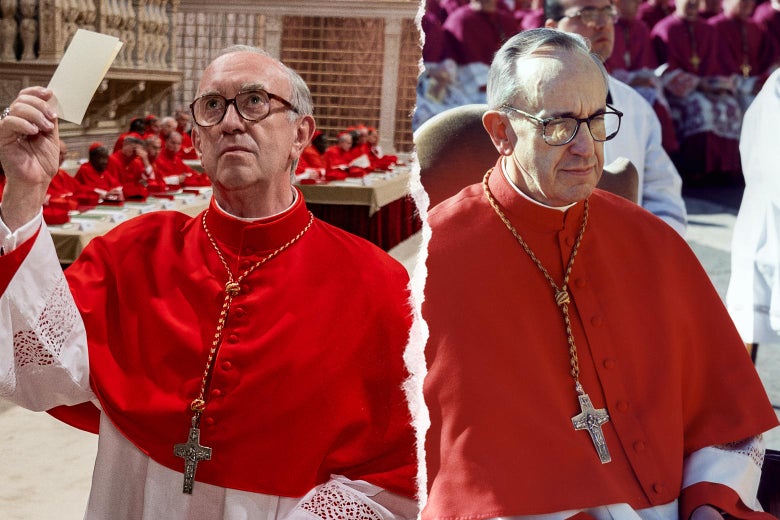 After a pope dies or resigns, cardinals from around the world gather in Vatican City to vote for the new pope, with a two-thirds majority required for election.
The Two Popes goes behind the scenes, depicting the political machinations that took place during four rounds of voting.
In the movie, Bergoglio is not interested in becoming pope despite the urging of Italian Cardinal Carlo Martini, who, like Ratzinger and Bergoglio, also got several votes on the first ballot.
Martini thinks it'd be better if the pope came from outside Europe, so he supports Bergoglio over himself.
Meeting at Gandolfo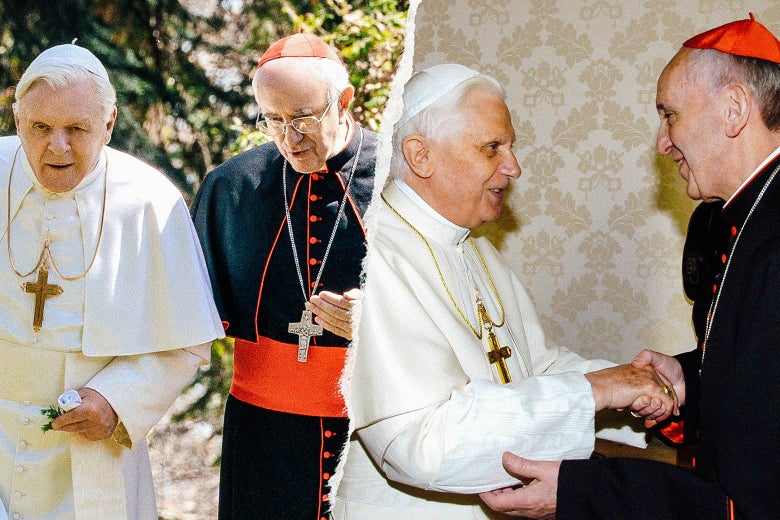 Bergoglio has since said that he went even further than the mere disinterest in being pope shown in the film, actually urging other cardinals to back the more conservative Ratzinger, who won and took the name Benedict XVI. Meeting at Gandolfo The movie's central conceit involves a secret meeting in 2012 between Ratzinger and Bergoglio.
The two men did have at least one confirmed meeting at Gandolfo, but it took place in March 2013, after Ratzinger resigned and Bergoglio had already become pope.
That's the scene that plays during The Two Popes' end credits.
"VatiLeaks" scandal
The popes' fictional meeting takes place under the shadow of the real 2012 Vatican leaks scandal, in which internal church documents were disseminated to the Italian press.
Paolo Gabriele, who had been Pope Benedict's personal butler since 2007, was identified as the leaker, arrested, and convicted of the theft.
The red shoes
The red shoes Ratzinger tells Bergoglio during their conversation at Gandolfo, "The way you live is a criticism. Your shoes are a criticism," to which a surprised Bergoglio asks, "You don't like my shoes?" We later see Bergoglio, after he's been elected pope, rejecting a pair of red loafers, preferring to keep the shoes he already has on.
It's a major symbolic difference between the two men, and one that's true to life: Benedict took plenty of heat for his fashion choices while pope, including his red shoes, which were falsely rumored to be Prada.
Popes wore red until the mid-16th century, when Pope Pius, a Dominican, changed the vestments to white, with the exception of the red cape, hat, and shoes, which have been worn by most popes since then.
The Dirty War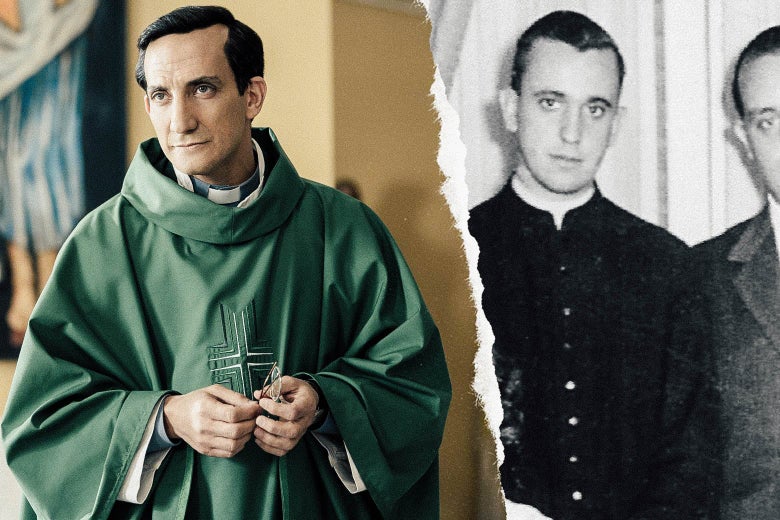 This is dramatized in The Two Popes by two incidents from the war based on real events: Bergoglio burning left-leaning books and ordering two priests, the Revs. Franz Jalics and Orlando Yorio-his former teachers-to stop working in the impoverished community of Rivadavia.
It's unclear, both in the movie and in real life, whether Jalics and Yorio left the Society of Jesus so they could continue their work in the slums in defiance of Bergoglio's instructions or because the future pope forced them out for disobedience.
Though this development complicates the otherwise rosy portrait of Bergoglio in The Two Popes, the movie is largely sympathetic as it shows him later pleading, unsuccessfully, for Jalics and Yorio's release with a military leader, insisting that the stay on their ability to celebrate Mass was only temporary.
Bergoglio tells Ratzinger in the movie that though Yorio never forgave him, Jalics did, and we see the two embrace during a Mass. That tracks with a report from another Jesuit quoted in Vallely's book, who said the two men "Fell into each other's arms crying" when they met in Germany years later.
Jalics issued a statement after Francis was elected pope denying that Bergoglio had reported him and Yorio to the authorities, though it stops short of absolving him of any blame in the situation.
Pope Benedict XVI
For a movie called The Two Popes, it spends a lot more time on Bergoglio's life and career than it does on Ratzinger's.
Benedict is as musical as he seems in The Two Popes, and the album mentioned in the film, Alma Mater: Music from the Vatican, is real.
It wasn't until years later, after Ratzinger was elected pope, that Maciel was forced to step away from public ministry-though the church did not denounce him until 2010, two years after his death.
The Room of Tears
The Room of Tears is where a new pope gets dressed for the first time and is so named for the emotions of the men facing the responsibility of spiritually leading 1.3 billion people.
For the full review of the movie this article is based upon, please read Marissa Martinelli on Stlate.com.